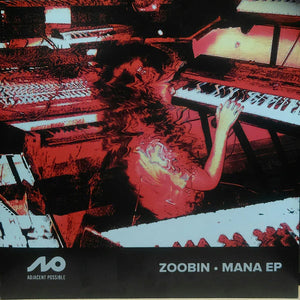 Adjacent Possible (AP) has tapped the unique talents of Tehran-based producer, DJ, and synth collector, Zoobin, for the label's debut release. Drawing inspiration from family, classic television shows, his love and addiction to synthesizers, and the city that he calls home, Zoobin has meticulously crafted each song to a level of quality and maturity rarely seen by such a fresh talent.
The cover was designed by Iranian street artist "Run", who transformed Zoobin's cousin, Mana, (who is sampled on the lead single) studio visit into a distorted collage.
***A1 - Mana***
The lead track was inspired by Zoobin's little cousin, Mana. Despite her young age, she can speak Persian, German, and Russian. This inspired Zoobin to sample a recorded conversation between Mana and her Uncle. The track was made using a Moog Sub 37, Korg Minilogue, Roland TR8, Roland TB3, and Vermona DRM1.
***A2 - Laura Palmer's Will***
As the title would suggest, the inspiration for this track came from David Lynch's series, Twin Peaks, scored by the legendary Angelo Badalamenti. Zoobin formed the first 3 chords shortly after finishing the series. The jungle-esque sounding intro was created with a Moog Sub 37 and the patch was saved as "Twin Peaks". Additional synths that were used include a Roland SH-101, Roland 106, RE-303, Roland D-50, Alesis Micron, Korg Minilogue, and Vermona DRM1.
***B1 - Juno Doesn't Let Me Sleep***
The first version we heard of this track was slower and moodier. It wasn't until Zoobin was prepping it for the release that he decided to restructure the core elements to produce the club monster it currently is. The star of the track is undoubtedly the Roland 106, a synthesizer that Zoobin loves for its warm, punchy, and nostalgic sound. Appearances are also made by the Roland Super JX-10, Roland SH-101, RE-303, Vermona DRM1, and Korg Electribe EMX-1.
***B2 - Tehran 5 am***
Zoobin is no stranger to the early hours of the morning. For the song dedicated to his home city, he decided to use only 80's era synths to achieve a retro sound that perfectly brings the EP to a close. This was achieved using a Roland JX-8P. Roland SH-101, RE-303. Yamaha DX7, and Roland RE-101 Space Echo.