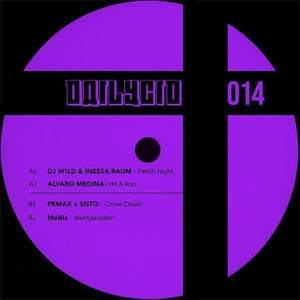 First on Dailycid 014 we have label boss DJ W!LD and Inessa Raum who are collaborating on the first track of the EP, "Fetish Night". Straight away you are trapped by the deep synths and breakbeat pattern creating a curious vibe. As the track progresses you get slapped by a somewhat nostalgic bassline. This one is sure to get you dancing.
Next up, Alvaro Medina with "Hit & Run", an absolute sub-shaker with a classic house twist creating a great contrast. The beat powers through while the broken vocal samples send you into a state of confusion, but undeniably a dancing frenzy.
Continuing on, we have Pemax & Sisto with "Come Closer". This one delves straight in at the deep end from the get go, combining the dark with the deep creating a "lost" atmosphere. The meandering break on this one takes you on a spaced out voyage.
Closing the EP off with style we have MoMa with "Weesperplein". A combination of stuttering beats, chopped samples and luscious deep chords to close off Dailycid 014. A great closer or early morning track for discerning record diggers.