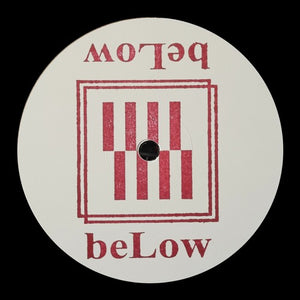 After a successful first release, the beLow collective is back at it with the eclectic BELOW002. Exploring many facets of house music, this hand-stamped opus combines tracks from friends & producers around the world, all gathered on gorgeous red wax.
The Italian duo Minimono, founders of the reknown Bosconi label, delivers a deep and hypnotic house groove on A1. Sprinkled with some unforgettable lead lines, this will please house heads at every listening.
A2 is funky minimalist jam brought to you by Belette3000 from Canada, for his first vinyl release. Starting on the bass-heavy side, this slowly grows into a bright guitar-led with precisely executed buildups and breaks.
On the flip side two French producers line up, starting with N.Y.A who brings the heat with a banging tech-housy track. Pitched-down vocals, a raging bassline, raw energy from start to finish and a very sweet breakdown : it's a certified belter.
Les Hauts ends it on B2 with a deep track alternating between 4/4 and some broken beat action. Enigmatic spoken words telling a story troughout the track bring the listener into acidic territories, deep pads and unexpected groove changes.
VINYL ONLY!