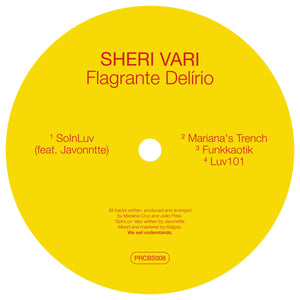 Percebes returns with a brand new release by powerhouse girl Sheri Vari. "Flagrante Delírio" presents her unique brand of introspective gritty funk, coloured with that flawless palette of classic tradition - by influence of some of her favourite producers (like Norm Talley, Maurice Fulton, Reggie Burrell, Rick Wade, Lone or Underground Resistance to name a few).
Side A kicks off with "SoInLuv" - sweet vocals and keys by the omnipresent Javonntte, analog heat and a snappy, classic TR beat pattern, cut in glorious 45 RPM for perfect sound. Flip for Side B that has "Mariana's Trench" (a solid and warm deep track, with a funky synth bass played by Daino), then "Funkkaotik" (a nasty number that defies categorization - the type of track that can define a DJ set!) and lastly "Luv101", an ethereal piece where bleak jazzy composition meet old school house beats.
Sheri Vari's "Flagrante Delírio" is a unique slither of plastic, filled to the brim with heavy tracks, respectfully rooted in timeless ideas.