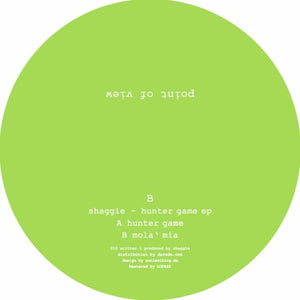 Point of view continues its way with another 2 tracker ep by italian producer, Shaggie.
Giuliano Lomonte's Point of View imprint welcomes Italian producer Shaggie in their 10th release.
Two serene peak time weapons form the EP, exploring soulful, uplifting territories lathered around lean beats suited to the label's agile expressions. Viceversa's modular contribution was premiered back in 2019, establishing the imprint's identity within swift minimal realms.
Simple and loopy frameworks explore a number of neat moods throughout their catalogue, gaining regular support from the likes of Raresh and Priku. Releases host a varied roster, with the likes of Noha, Federico Molinari and Alexis Cabrera.
'Shaggie' opens the EP with gritty, machine beats flowing over an optimistic bassline in the premiered 'Hunter Game'. Sounds evolve through a world of sci-fi melodies and earwig textures, whilst maintaining a hopeful, sunrise mood.
Warm, emotive chords flow between crisp hats and a breeze of almost aquatic-like ambience. It's the kind of mood-setting minimal pioneered by Giuliano Lomonte and much of the Romanian circuit, navigating rich and expressive domains.
Sections unfold with a hypnotic, trancey arrangement, building layers of conversation between bliss melodies and trippy vocal work.
'Mola Mià' lifts the energy on the flip, shaping a lively journey through bleepy rhythms filled with soulful character. A shifty sub bass brings a zesty, club vibe, pinning the groove with a moreish charm.