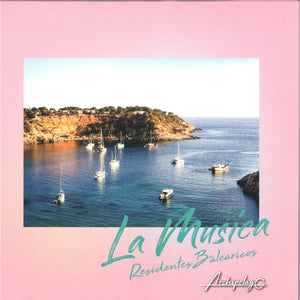 La Musica is a dreamy track for the perfect Balearic experience.
Written by the "Balearicos" it comes with 2 great remixes, one from the chillout legend Cris Coco and another one from Rudy's Midnight Machine .
The original version comes with a long and chill intro of over 2 minutes where echoes and synthetic pads build up the atmosphere to a heavenly happy place until the beloved classic combo of tr 909 and Korg M1 Pianos send all us back to 90s open air dance floor in Ibiza. There is where the journey starts, accompanied by the piano chords and Brazilian sounding voices, saying: "La Musica". After the Hype we go back to a chill place, and a soft ending of the track. Perfect for a set on the beach or as a warm up record, will fit perfectly in your Balearic session.
Rudy's Midnight Machine takes the elements written by R.B. and shakes everything into a Disco dimension. All the elements for the perfect track are in place: Funky Bassline, Open Hi Hats and muted guitar plus an exploding chorus with a great melodic hook. You can't miss this tune if you are into Disco with a classy and modern feeling.
Chris Coco's remix is a classic take made with great taste. He keeps the harmonic elements as well as the bass line almost intact, plays around with the vocals and adds melodic bits that almost give a tropical feeling. Don't be fooled by a soft intro because the rhythm is soon coming in and taking the listener to the dancing zone. It may generate good moods and generally happiness.