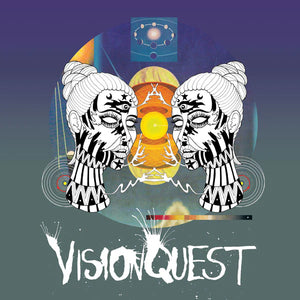 Visionquest is back with the second part in their VQ X series that celebrates 10 + years of the infamous dance label. The record kicks off in sublime fashion with one of the most important underground producers of the last 20 years…
Mathew Jonson. "These Tears" delivers a driving 808 with arpeggiated synths weaving through mystic key tones and perfectly crafted percussion that he so well respected for all these years. It's as if you're flying through space at hyperspeed while also in your calmest state. An absolute transition gem to take you higher or bring you down with ease.
Cesar Merveille continues to keep the bar high with "Decennium". The music somehow perfectly straddles the line between the future and the past with beats that hint at that 90's digital vibe, while also keeping the ultra modern modular analog sound. Pro tip: Also check his CSR moniker on his own Roche Madame imprint for more! On the flip, the B side starts with Gianluca Pegoiani's "Wonder Wheel", a big bumpin' jam with sub tones that slowly rise and fall in pitch. Aleatoric punctuations bounce around with a bell synth pattern and a syncopated repeating key tone that keeps the track moving expertly forward.
Rounding out the EP is Dirty Pathways from VINYL SPEED ADJUST. A dope, low slung groove, it pops with elements of live drums and a driving bass ties it together. Slowly synths and pads build under the surface to reveal a very cool mood to finish the EP.
This record will no doubt be a standout moment for the already immense and highly creative catalog of Visionquest and a solid addition to the VQ X series.