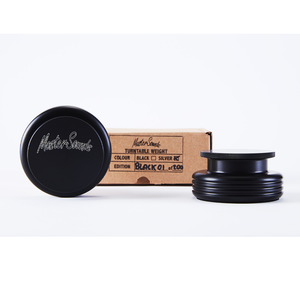 Mastersounds Turntable Weights - available upon request: shop@ssignaturemusic.com
"The number 1 turntable weight used by Dj's in the world!
My turntable weights are carefully designed to reduce a turntable's noise floor and thus improve the musical soundstage. Users enjoy improved bass response, tighter mids and controlled highs as the turntable weight reduces unwanted resonance when placed via the spindle on top of a record. 
I have tested my weights on a large variety of non-suspended belt drive and direct drive turntables with great success. Pressing plants try to achieve quality control on every record made, however, there are intrinsic issues such as dished and warped records. My turntable weights help to combat this too. DJs love this; as it aids cueing a problematic record prior to mixing and eliminates needle skip.
I have developed an anti-slip base for my weights, and thus each turntable weight has been designed to grip the record, which is fantastic for DJ'ing as it really stabilizes records in the mix. I always ask DJs to use my turntable weights for a couple of weeks then remove to realise what a difference they make!"