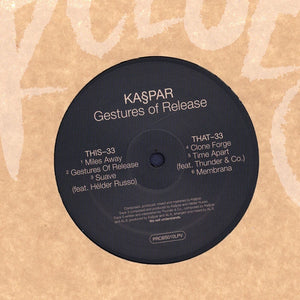 "Gestures of Release" is Ka§par's latest full length album on Percebes Música! His fourth LP, but the first that is made up of all new material since the release of his highly praised debut long player "Ascensus" in 2014 (on Rotterdam's fine 4Lux label).

 After more than two decades of solid work, Ka§par's art is still growing and evolving. He creates a highly personalised sound universe that manages to display diversity whilst retaining a unique sense of coherence - something only accessible to those who spend decades learning about the music they love. "Gestures of Release" is nothing short than a clear statement to support this assertion. 

The new album proposes 10 tracks that reflect many of the producer's most treasured aesthetics. There's the deeper abstract jazz-house of "Rectify" and "Miles Away", the discoid funk of "Head Down" and "Feelin' Something", but also the dreamy downtempo and dub of "Suave" and "Maritime Myriad". There is also, of course, plenty of irresistible bumping dance floor action of classic inspiration with tracks like "Gestures Of Release", "Clone Forge", "Time Apart" and "Membrana". 

Neat in its production, precise in its objectives, the album displays a wealth of influences and interests and includes guests from the artist's immediate circle: best friends Hélder Russo and Andrew "Change Request" Emil, Portuguese electronic funk-soul band Thunder & Co and the revered drum'n'bass producer AL:X of Cooltrain Crew. 

Almost entirely produced, mixed and even mastered by the artist, this LP will be released on both digital and vinyl format. The latter will feature 6 of the 10 tracks on a great sounding 12", with a high quality full coloured print and a digital download code offering, to be collected on the label's web page. 

In the end, and quoting Vito Corleone, it's "an offer you can't refuse": an eclectic set of top notch tracks that a DJ can use on both dance floors and cooler settings but also, an album that any music lover can enjoy on a proper turntable. It's a great sounding cut with plenty of bonus music in its digital counterpart, and a great bang-for-the-buck pack full of future classics, as most Percebes records and releases so far.