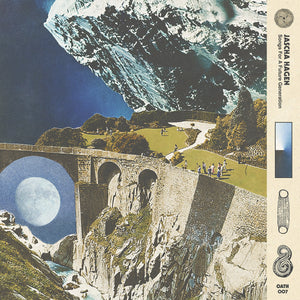 For the label's third LP release, Oath are extremely proud to present this extraordinary sonic journey from Jascha Hagen, one which continues to showcase the producer's penchant for defying expectations and finding consistency in flipping switches and moving from one form of expressionism to the next.
Who doesn't love a record which seamlessly moves from one side of the audial spectrum to the other, whilst seemingly filling in all the gaps that persist in between? Well this has been the career trajectory that Jascha Hagen has set himself out on since 2008, and his discography speaks for itself in this regard. Operating within the realms of House and Deep House, Hagen has made it his mission to push out the boundaries of what feels possible within the genre, deconstructing the meaning of rhythm and melody to really stamp his own sense of identity on proceedings. Each release speaks to this concept, with differing tones and beats stretched out and impeccably built upon as a means to provide an enriching experience and first and foremost, a balanced and beautifully curated one. His ability to weave the notions of house into other genres has become more prevalent in recent years, taking in Downtempo and Techno leaning vibrations into his already deeply engrossing sound.
With releases on imprints such as Shh, Auditive, Mana All Nite and his own imprint Physical Pleasure, there is so much goodness to dive into if you like your House music ever shifting and ever illuminating, along with the comforting knowledge that the next release will only add to the ever engaging soundscape Hagen has conjured up so far.
Two years after his debut LP effort 'Harmonies Romantiques', Hagen graces us with the presence of 'Songs for a Future Generation'. Continuing on with a similar vein of musical exploration that occurred on his debut LP and records such as the highly vibrant 'A Touch of Cold Water', Hagen turns on the style in regards to creating a deeply compelling series of sounds that all for one but deeply individual all at the same time, with the micro evolutions that occur throughout giving much over to the idea of creating a rounded and fulfilling experience. The album begins and ends with two uptempo numbers in the form of 'QQQ' and 'Slide Through the Valley', both of which allow for a release of sorts through the inspired use of live instrumentation and the layering of elements which makes the music feel so very alive. Quiet spaces are found in the cuts 'Rivers of Absence', 'Too Far' and 'Swaying', all of which persist between the rhythms impeccably and act as these thoughtful, beautified interludes that touch upon the question – what will the future look like? All of which is answered in three differing tonal ways. 'L7 Dreams', 'Gem' and 'XX Blues' all shift between the other vibrations, exploring in their own exciting ways a very conceptual manner of being, and it caps off the experience beautifully.
Jascha Hagen has always had a knack at making the extraordinary feel effortless, the in-sequential feel complete and whole, and the wide reaching feeling laser focused and total. This new record is testament to these notions, and from the moment you press play until the record wraps itself up, there is a deep satisfaction to be had, a journey that merits revisiting time and time again. So why not take a little meander, and loose yourself within an audial experience of such quality