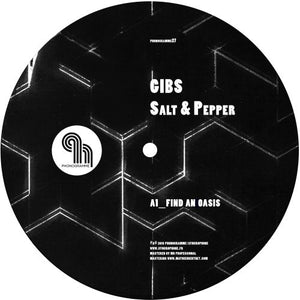 Gibs "Salt & Pepper" EP
'Find an Oasis' kicks off the release with rolling organic percussion before progressing elegantly into layered emotive lead synths and mellow bass stabs.
'Jakarta' is a subdued deeper house cut, filled with an uplifting, undulating melody and raw lo-fi elements collectively creating a luscious calming effect.
Last up, 'Der Germain' offers up a fluid, groove filled number balanced with charming, jazzy flutters and tender keys providing a warm, breezy atmosphere to the end the release.
A MUST HAVE record for sure!