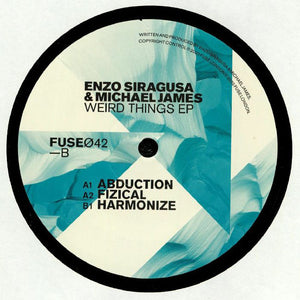 Enzo Siragusa partners with Michael James as the pair deliver their 'Weird Things' EP.
A selector, producer, A&R and label boss at the top of his game, FUSE founder Enzo Siragusa stands today as an artist not only at the heart of London's electronic music scene but also one embedded right across the globe, with his unmistakable sound taking in appearances across the world's most prestigious institutions.
Opening with the snaking 'Abduction', the pairing quickly go to work combining eerie, sweeping synths, crisp drum licks and rumbling low-end frequencies effortlessly, whilst 'Fizical' employs slinking percussion arrangements amongst airy background chords, infectious vocal snippets and dubbed-out riffs.
Last up, B-side cut 'Harmonize' wraps up proceedings in emphatic fashion as skipping drums loaded with swing meet off-kilter synth lines and menacing slabs of sub-bass to offer up a head down, hands up anthem to shape up a must-have offering from the duo.