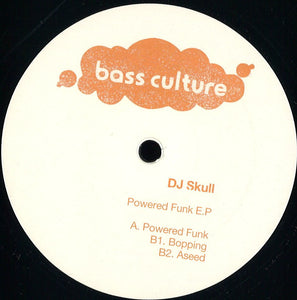 Chicago pioneer DJ Skull steps up for the latest Bass Culture release bringing that original energy as only a native of the Windy City can do.
Skull's depth of experience dates back the mid­eighties when he began to play house music when he was just 10 years old.
On this three­track EP he brings the funk, undiluted and fresh with chunky bass, crisp beats and hints of acid coming through.
On the A­side we have 'Powered Funk', a delightful cut with a laid back groove and a contagious rhythm that gets under your skin immediately. The beats skip along with precision, keeping the energy levels high while the low end keeps your hips swinging and head nodding. The main melody is uplifting and evolves into a symphony of positive vibrations.
Flip the record over and side B kicks off with 'Bopping', a piano­led jam with the keys working in tandem with the gentle flutter of a flute and a jazzy double bass providing the heart and soul of the cut. Skull rolls this one out masterfully, with gentle progression and non stop energy throughout.
Finally, we have the aptly­named 'Aseed', a 303­inspired track which uses that infamous acid sound to great effect. The low end rumbles along purposefully, with crisp 4x4 beats pushing things forward and that irresistable acid riff inducing the listener into a state of hypnosis.
A great all round EP from a man whose years in the game make him a force to be reckoned with...