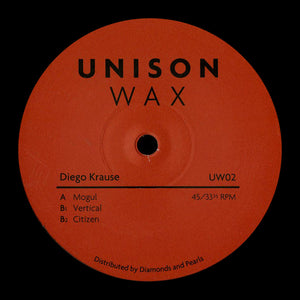 A The A-side is a heavily restrained excursion that rests on the boundary between underwater-level deepness and a dry fineness akin to being dragged through a beach. Both playful and menacing in the same breath, it's all crisp handclaps layered with whip-cracking kicks, pops and hats, underscored by a hypnotic, swaying bass line. Spacey, aggressive synths and a coiling radio-static-meets-guitar-chug sample occupy the upper levels, but this really is a simple, tooly, fine deep garage track perfect for building things up and knocking things down.
B1 If the A side was on the beach, then B1 emerges from the water. A pulsar and a simple kick greet you before a reverbed funky pluck and a rolling bass do the legwork. Subtle, dubby and driving, the watery aspect gets counterpoised by dry hats and a sparse and lonely cry of a pad, somewhere, far off in the distance. Contemplative yet playful yet dark and another 4 AM affair.
B2 is warmer and looser, focused on elemental percussive drives that shake themselves into centre stage. A bass line that gets forced back is then finally released and realised through swelling pads that wave themselves in, while a phaser calls out above it all, at liberty and intermittently. B2 = builder to early morning sunrises .