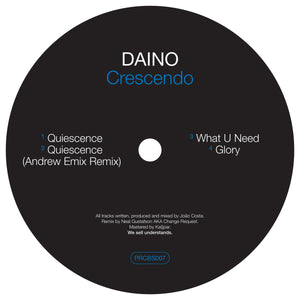 Daino is João Costa, a solid electronic music scene player based in Lisbon. Both a producer and a DJ, Costa is a professional keyboardist, music teacher, sound engineer and freelance composer/sound-designer for videogames.
With a few releases under his belt, Daino debuts in vinyl format with "Crescendo", which holds all the makings of a future classic.
There are three originals and a remix on his new record, all perfect for those who love emotional intensity and playing to a discerning dance floor.
A wholesome four tracker, it defines modern deep house with a respect for it's classic institutions.
There's the New Jersey style house of "What U Need", the epic and piano driven discoid techno funk of "Quiescence" and the bluesy gospel party anthem found in "Glory".
All amazing tracks with pristine a production showcasing Daino's roots in jazz-funk.
"Quiescence" gets phenomenally flipped by Chicago based Andrew "Change Request" Emil, who turns the effusive original into an amazing burner that builds forever until it's climatic resolution!
Don't sleep, Percebes is backing it's claim to be at the forefront of ever-valid deep DJ material.
MUST... HAVE!!!