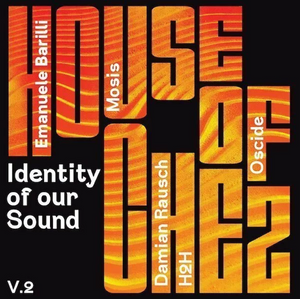 The "Identity of our Sound" Various Artist compilation is a collective of like-minded, forward thinking, and passionate music makers from around the globe, compiled together and scouted by Chez Damier. This double disk will take you on a journey, track to track, and will give you the opportunity to identify and feel the identity of their sound.
A
Reilab - Unconscious Relief Using your imagination: Your all-night dance is slowly coming to an end at a long-lost party off the coast of Ibiza. The sun is rising. Straddlers are all heading off separate ways as the shore washes up for the end of the dance. What an atmosphere. This could've been made in the late 90s or the early 2000s where these kinds of parties were all the go. Absolutely euphoric. Nothing else to be said for this beauty.
Mosis (ft. King Jet) - Pick It Up Heading into deeper and darker territories this one by Mosis will be sure to pick it back up. We are shuffling along with some nicely creative drum programming. Throw in some vocal chops and unpredictable melodies, sounds and clicks and let's pick it up.
B
Damian Rausch / H2H - Together ( Dub Mix) On the B side, the hearts of Ben Vedren and Chez Damier combine with young talent Damian Rausch who can do no wrong at the moment and this remix is no different. Gradually building and anticipating from the start, this one turns into a total shoulder shrugging frenzy of deep and delightful sounds. A straight dancefloor weapon. Deep but soulful.
Oscide - No Use Rounding off this clever compilation is the alias of Dublin native Craig Scully that is Oscide with his track "No Use". With his signature percussion elements and driving bassline, this deep minimal and loopy beat will get you moving. If you feel like you want to bop your head, don't fight it as this one will be of use to you when you embrace the dreamy vocal sample on top of the sublime stab sequences and sounds.