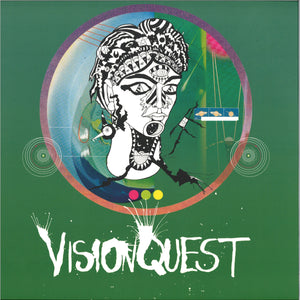 Visionquest is back for VQ X EP III their third installment of the epic acclaimed various artist anniversary series.

It kicks off with the sublime "The Serpent and the Jaguar" from a master producer who is constantly on the forefront of electronic music, Deadbeat. Perfect dubby bounce intertwines with wooden synth delays and murky deep low end to bring the listener the aural bliss he's so well known for.

For A2, Berlin supergroup Triptease team up with frequent collaborator and highly regarded bass player Yonathan Levi on the track "Amniotic". Robust upright bass leads the listener into a dreamy soundscape punctuated by crisp analog percussion. As the track picks up, icy keys and rolling pads move with beautiful walking bass that conjure up memories of classics like Bitches Brew.

The pace picks up on the B side with world renown house maestro Tuccillo. A long time label friend, collaborator and Ibiza stalwart. Tuccillo has been synonymous with quality for the past 20 years. Tucci comes in hot with a bumping house tune which may have come from "Outer Space". The drums dip in and out of a breaks feel, oozing with subtle sophistication.

Rounding out the EP is the lovely "When Will We Meet Again" from the fantastic
Visionquest mainstay Wareika. Beautiful jazz steeped percussion and guitars segue into more clubby low end bringing the listener closer to the dancefloor but somehow remaining mysterious in form.

VQ087 is an amazing continuation of the boundary pushing series on a label that's constantly moving on the cusp of modern electronic music.